Laminate Flooring in El Cajon, CA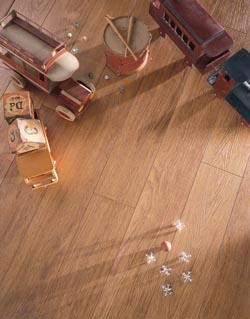 When it comes to installing first-class flooring in your house, our flooring store has what you need for an affordable price. We offer a wide inventory of name-brand flooring that will transform and upgrade your home. Our laminate floors are tough and easy to maintain. Our collections of laminate flooring can complement a variety of interior design preferences.
If you are looking for a tough floor that outlasts stains and water, then a laminate floor is the right choice for you. For example, our strong and stylish laminate tile flooring consists of a four-layer composition, which includes the following:
Wear layer: Protects against stains
Decorative layer: Provides decorative and natural-looking qualities
Core layer: Provides water resistance and protection
Balancing layer: Ensures proper installation
These layers help prevent warping, stand up to water, and create a natural-looking appearance. Laminate tile is a great choice for those who love the look of harder flooring surfaces but don't want to break their budget or deal with special maintenance needs. It's difficult to tell the difference between your laminate floor and its costlier counterparts. Laminate flooring can realistically imitate the appearance of natural stone. At our flooring store, we pride ourselves on offering affordable laminates by some of the leading manufacturers in the industry.
What Makes Laminate a Suitable Option?
Do you suffer from allergies or asthma? Laminate tile flooring is an excellent flooring choice for anyone with respiratory problems because it doesn't trap dust, dander, pollen, or allergens like other types of flooring do. Its easy-to-clean surface means dust and pet hair can be quickly swept up so it doesn't hang around and make you sneeze and cough.
Make the best choice for your family by choosing these floors during your next home improvement project. If you or anyone else in your house suffers from allergies, respiratory infections, or asthma, this flooring can provide protection and relief from breathing aggravation. Laminate is a perfect choice for virtually any room of your home due to its attractive appearance, water resistance, and easy maintenance.
Laminate plank flooring is a great choice for homes with high traffic and rooms prone to water, such as kitchens and bathrooms. Young families and homes with pets will benefit from the strength of laminate floors. Our collection of laminate floors comes in diverse aesthetic options. When you install laminate flooring, you are picking a floor that can withstand scuffs while still looking beautiful.

Laminate flooring is able to imitate or replicate virtually any material or image you desire. A high-resolution image is placed on top of three layers to create a beautiful aesthetic. Our store offers a wide range of different photo finishes that mimic the look of tile, stone, and hardwood flooring materials.
Protect Your Investment with Quality Installation Services
Are you in need of laminate flooring installation by qualified and experienced professionals? Look no further. Our skilled and qualified installers utilize responsible methods and the latest technology to prevent dust and other debris from spreading in your home when removing old flooring. This helps protect the health of you, your family, and your pets when replacing your current floors.
Having your flooring installed by our team of specialists is the best way to ensure your floors are laid and acclimated properly so they last for many long years. Laminate floors take a little time to acclimate to the humidity and average temperature of your home, and our special method of preparation helps them remain smooth and flat for decades. Ensure your floor is covered by any warranties you may qualify for by allowing our skilled team to provide laminate flooring installation to protect your gorgeous new floors.
For more information about our 12-18 month financing:


Contact us to peruse our wide selection of laminate flooring options. We're proud to work with clients in El Cajon, California, as well as the surrounding areas.