Bathroom Tile in Santee, CA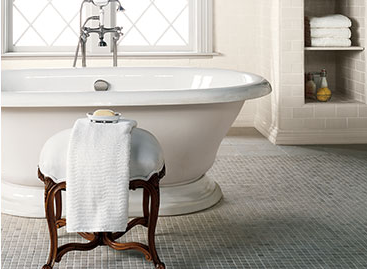 If you are ready to remodel your bathroom, then it's time to decide on which tile you are going to choose. How to choose bathroom tile in Santee, CA, is a question that we can answer. Come into our showroom to browse and ask questions, call to talk to one of our flooring experts, or use the on-page contact form for more information. We're always happy to help however we can. We have ways of customizing the brand, type, texture, style, and color of your tile so that the aesthetic, pricing, and performance are exactly what you and your family or customers need.
Ceramic bath tile is perfect for any busy, water-splashed room in your home or business. Tile is made from a mixture of organic materials, usually clay, and then glazed. This makes it extremely strong and water-resistant—perfect for the bathroom! Use it on the wall, around the bathtub, as a backsplash, or on the countertop. There are few places this versatile material can't go. And at our store, you can have fun mixing and matching different squares of tiles and different complex patterns for ceramic bath tile designs that are both functional and beautiful.
Whether your shower is a standalone or part of a shower-and-bath unit, ceramic tile makes for a wonderful accent in your home. Water does not damage it; in fact, it runs right off. Plus, ceramic shower tile is easy maintenance. Scrubbing it down with tile cleaners occasionally is all the work that's needed to keep it looking as beautiful as it did on the day you bought it. And tile has such a clean look that it adds to the appeal of any shower as well. No matter where you put it, you're almost sure to see an increase in value once you've allowed us to install our tile in your bathroom.
About Our Materials and How We Install Them
Ceramic tile bathroom flooring complements any room in your home or business in Santee. It adds elegance and visual appeal, especially since each individual floor tile has its own unique look. Ceramic is made to withstand spills and heavy traffic, and it lasts for years with little maintenance. Needless to say, our product is a long-term investment that pays for itself. Ask us about our professional bathroom tile installation, and you'll receive even more assurance of this longevity. When we install floors, we install them to stay in good shape for years.
Since each piece of ceramic floor tile must be laid individually, settled firmly in place, and then grouted to hold the pieces in place, it is a job best left to our professional installers. Unless performed perfectly, the modular pattern of bathroom tile installation can look sloppy, which is the last thing you want. In addition, ceramic floor tile that is not installed properly tends to shift and crack, whereas professional installation work holds up for decades. Investing in quality service now offers massive payoffs later, whereas going a cheaper route now could get expensive in the future should things go wrong,
We're proud to offer you the most comprehensive flooring service possible. Our experts are here to help you with design and selection, as well as convenient tile installation. You can feel confident that you're receiving some of the best services in the local area, as our bathroom flooring installers are skilled and experienced. They've worked on residential and commercial properties, small spaces and big ones. No matter what tile you want or where you want it, you can trust that we're right for the job because we know our products the best.
The Perfect Place for Top-Notch Remodeling Services
Selling and installing bathroom tile is just one part of our professional remodeling work. We provide plenty of other ways to update or otherwise enhance a room, and it starts with a free in-home estimate given by our 5-star certified sales professionals and design specialists. Our family-owned-and-operated store has been helping homeowners to achieve their property's full potential for more than 25 years. With our low price and lifetime installation guarantees, you're sure to find something that fits your budget.
Remodeling brings with it some amazing benefits. Just a backsplash or a bit of shower tile can add to the resale value, plus you get the joy of being able to have the space you've always wanted. We do the hard work while you receive the advantages that come afterward, and our decades of experience give you the comfort of knowing you can trust us to do it right.
In addition to ceramic bath tile, we provide you with other options for your home or business that are made of a similar material with comparable benefits. There are a multitude of choices we offer in natural stone, marble, and glass tile—any of them is sure to please. All stone is strong and enduring and lends a timeless appeal to any room. Marble tile is exceptionally hard and resilient too, and it's available in many gorgeous patterns and colors. Regardless of what it's made of, tile brings the best of beauty and function to your bathroom. Schedule a consultation today to discuss your design ideas with our experts.
Contact us to take a look at our tile today. We install this material in homes all over El Cajon, La Mesa, Santee, Alpine, and San Diego, California, and the nearby communities.
For more information about our 12-18 month financing: