Laminate Flooring in Santee, CA
With beautiful new laminate flooring from Village Carpets Flooring America, you can transform your home. At our showroom in Santee, California, you'll find samples of some of the most durable laminate selections. We offer affordable laminate materials that can give you the same brilliance as a hardwood floor for a fraction of the cost. Our laminate flooring collection is ideal because it is both low-maintenance and high-performing. It is designed to improve comfort, style, and practicality.
Whether you have an idea of how you want your home to look if you need a little inspiration, choosing laminate flooring will give you the style you want for less. This adaptable flooring adds elegance to every space without the need for regular maintenance.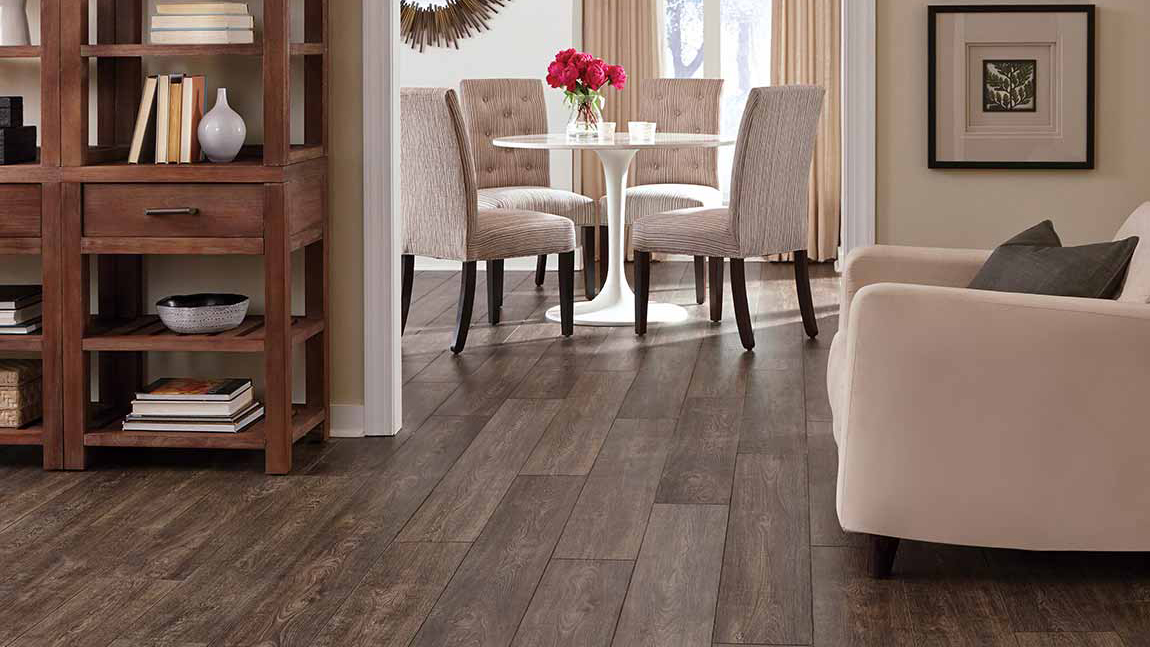 Laminate Benefits & Available Styles
Laminate brings strength, durability, customization, and affordability to any home and it is a great choice because of this. Laminate is made of four layers - base, core, decorative, and wear. The beauty and strength of the laminate are enhanced by each engineered layer. The wear layer is meant to protect the decorative layer from scratches, fading, stains, water damage, and chipping, while the base and core provide the laminate with a solid interior.
Laminate flooring is manufactured using either high-pressure or direct-pressure methods. The direct-pressure method fuses all four layers at once and produces the most affordable and common types of laminate flooring. The high-pressure method is similar, but the layers are fused one at a time and with higher amounts of weighted pressure and heat to produce the most durable forms of laminate flooring. This method is ideal for commercial spaces. Both methods produce a beautiful flooring option that is available in a variety of colors and patterns, with a resemblance to wood and stone surfaces. We proudly offer stylish brand choices from Floorcraft Maysville and Floorcraft Performance Flooring. We also offer waterproof laminate flooring options exclusively from Floorcraft Maysville H2O for those seeking further protection from spills and moisture. Learn more about the styles of laminate we offer:
Laminate Wood Flooring
Our laminate wood flooring offers the same beauty and elegance as hardwood floors, but with the durable, low-maintenance appeal of laminate. Laminate wood flooring can look just like your favorite hardwood species and this is because what you see when you look at laminate flooring is a high-quality image of a hardwood plank. Laminate has layered construction with a clear coating on top that allows you to see the image of wood beneath. Behind this is a sturdy layer that stabilizes this flooring and a backing layer that resists moisture.
Laminate Tile Flooring
Stone and tile add richness to any living space. Laminate tile flooring replicates the highly desirable appearance of real stone flooring at a lesser cost. Our stunning collections of laminate resemble quarried stone, porcelain, ceramic, glass, and more. Select the floors that resemble your favorite stone or tile, and you'll receive a high-end look without enduring a high-end price.
Maintaining Laminate Floors
Experience the difference laminate floors can make in your home. In addition to its wide range of colors and finishes, laminate is a low-maintenance flooring material that offers easy upkeep. While other flooring materials require periodic refinishing and touchups, this product requires very little of your time, care, and energy. Simply keeping it clear of debris with occasional sweeping and mopping is all you need to extend the look and lifetime of these floors. We recommend using a laminate-cleaning product for best results.
Additionally, laminate floors are resistant to the damaging effects of sunlight and outdoor agents. While other materials stain when exposed to UV rays, laminate does not fade and its protective wear layer prevents stains and smudges from ruining your floor. These factors make this flooring ideal for a busy household.
Professional Installation You Can Rely On
Instead of spending time and resources looking for a qualified installer, take advantage of a professional floor installation from our in-house team. Our expert technicians have the skills and experience to properly install every piece of laminate in a single room or your whole home. Rather than researching how to install laminate flooring yourself, let us take care of the hassle based on your schedule. Our promise of a quality job is backed by our Ultimate Confidence Guarantee, which assures any necessary repairs relating to installation are free of charge within 30 days of your installation.
Contact us to learn more about our laminate flooring options. We proudly serve customers in Santee, El Cajon, La Mesa, Alpine, and San Diego, CA, as well as the surrounding areas.