Design Trends and Inspiration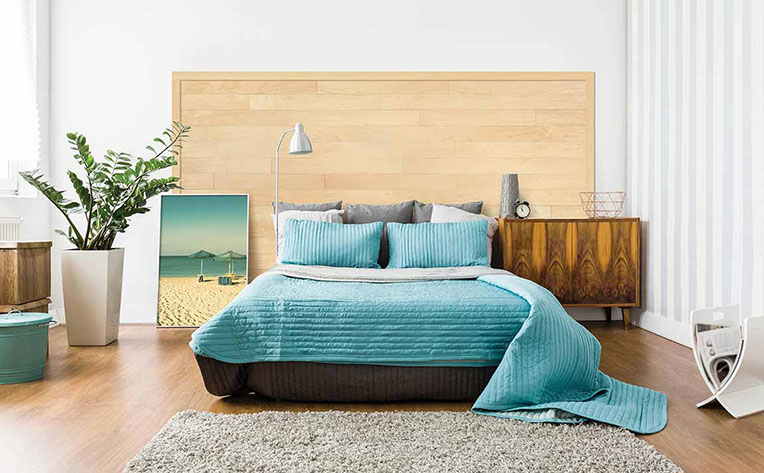 Sep 16, 2019
From Aspen ski lodges to tropical getaways; resorts come in all different styles and flavors. But all resorts share one feature in common: luxury. We visit resorts to be pampered, recharge, and rejuvenate, indulging ourselves in comfort and style.
But who says the vacation ever has to end? With the right decor and interiors, you can enjoy the resort experience at home without breaking the bank to do it. Ready to learn how? Bring home a touch of class and live the high life year 'round by incorporating these five resort-style home decor ideas into your house or apartment.
Resort Style Interior Design Inspiration
Go Bold with Accent Pieces in Your Home Decor
No resort-style bedroom or living room would be complete without one bold accent piece to draw the eye. Try hanging a large painting or tapestry in your bedroom to create a dramatic focal point.
With such a striking design centerpiece, the space will exude confidence — and express more of your personality. As an added benefit, paintings are easy to take down and replace, offering freedom and flexibility for a style that's stress-free.

Set the Tone with Resort Style Colors
Even if you don't always realize it, color has a huge impact on your mood. To make your space feel more like a resort, choose a color scheme that helps put you into that vacation getaway mind-set.
For example, if you're trying to recreate more of an ocean or Mediterranean resort feel, opt for plenty of crisp, bright whites and blues rounded out by warm clay tones. For more of an upscale or modern feel, experiment with classy, elegant hues like taupe, espresso, and pewter.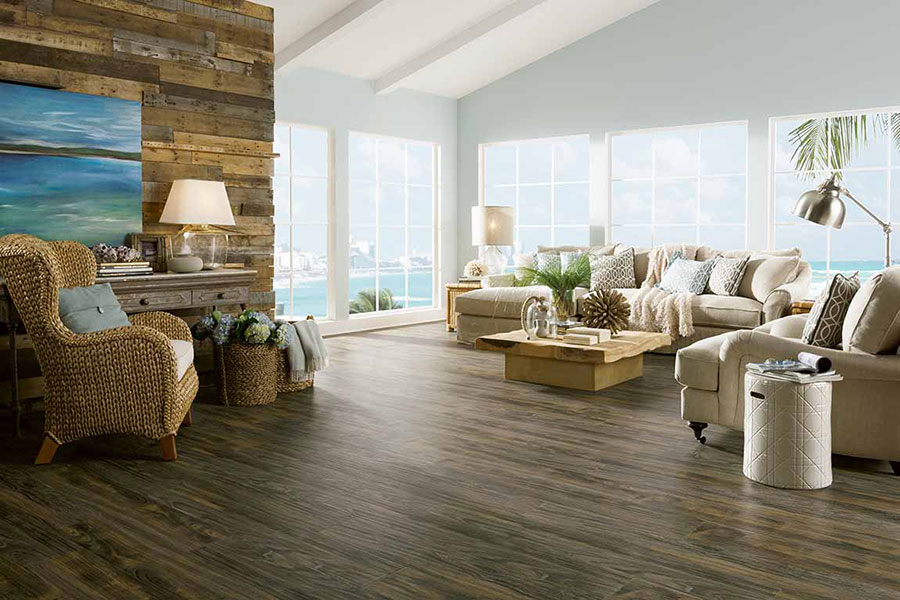 Get Luxury Lighting for that Resort-Like Feel
Even the world's most opulent styling can look less-than-stellar beneath fluorescent lighting. If you put in the effort to make your home beautiful, be sure to find lighting that flatters all your hard work!
Many hotels and resorts feature sleek recessed lighting, skylight features, and abundant sources of natural light. Modern wall sconces double as gorgeous decorations and sources of gentle illumination.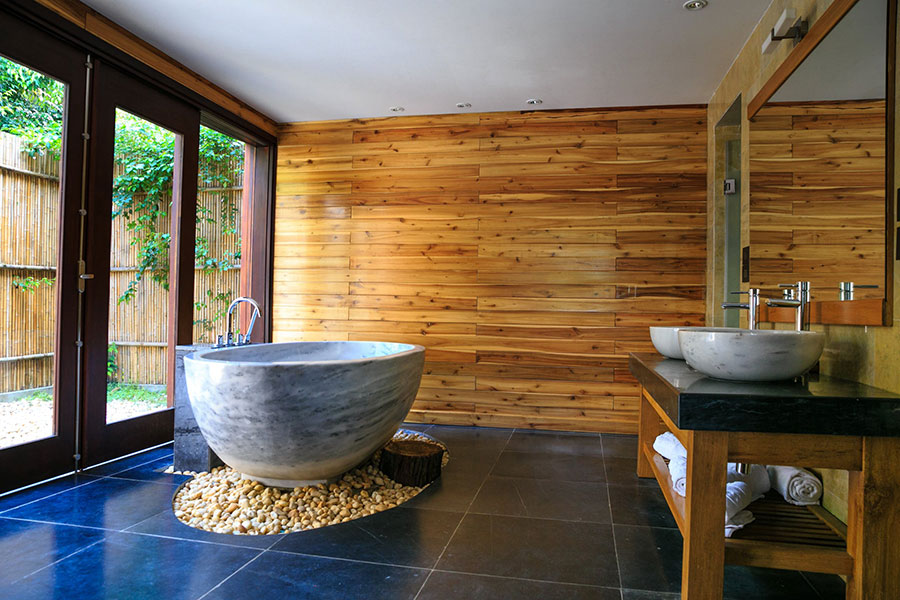 Use Plants to Add Color in Decor
Floor plants add a pop of color to any room, while making good use of corners and awkward, underutilized spaces. Plants can also make your home feel more like a hotel or resort, adding an exotic, jungle-inspired touch to your space.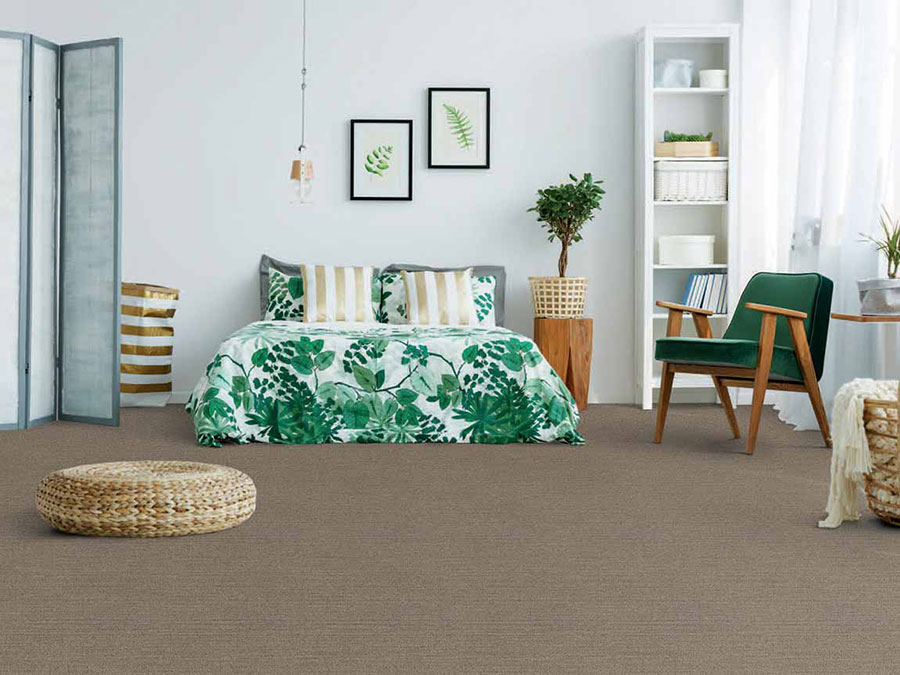 Clean up the Clutter in Your Home
Luxury and clutter go together like peanut butter and bologna: they don't. Before you start any home redesign project, take an afternoon (or three) and give your house a deep clean, so that you can set the stage for style success.
Get Resort Style Bedroom Ideas from My Design Finder
You don't need to live in a high-rise penthouse to get the look of luxury! At Flooring America, we offer thousands of premium and luxury home flooring options, including hardwood, stone, marble, luxury vinyl, and more. We'll even handle the installation for you, so you can kick back and relax in true resort-style.
Continue Reading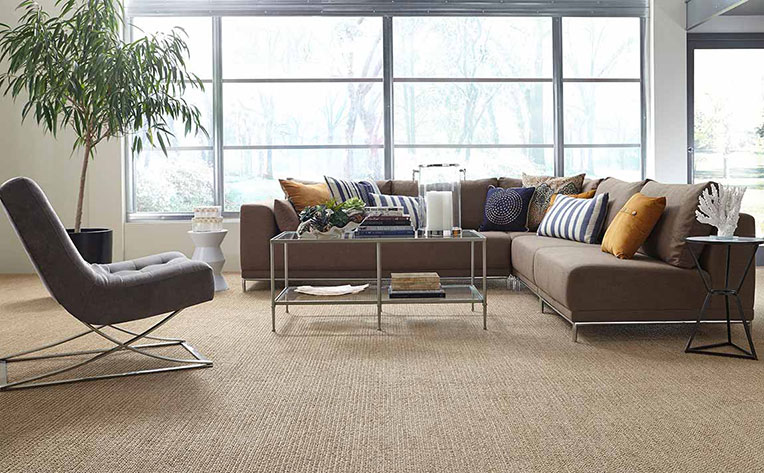 Aug 19, 2019
Moving is an exciting event, but it can also be extremely stressful. You want to get the best price possible for your home, but in such a competitive real estate market, it can be tough to entice potential buyers. Fortunately, there are plenty of fast and affordable ways to make your home more attractive. By staging your home with some style and design tips, you can increase your "curb appeal" without having to break the bank first. Keep reading for five easy tips on staging a house for sale.
How to Style and Stage Your House to Sell Quickly
Do Some Deep Spring Cleaning
Let's get the least fun tip out of the way first. If you want to get the best asking price possible, your home needs to look as pristine as possible, and like it or not, that means spring cleaning. Lots of it.
Are there toys, clothes, or cords on the floor? Is the paint on the walls faded or scuffed? Are the sinks stained or rusty? Could the shelves use a dusting? Are there any pet odors, or lingering smells? If you answered yes to any of these questions, you know what to do next.
Remember, your home doesn't have to look sterile! A personal touch can be inviting, but it does need to feel tidy and fresh.
Broaden Your Home's Appeal with Neutral Colors & Decor
A "neutral" color is a hue that can be mixed and matched with almost anything. Examples of neutral colors include beige, grey, taupe, white, eggshell, and soft blues or browns.
When it comes to ideas for staging a house for sale, it's hard to go wrong with neutral colors. Neutral tones showcase the space's versatility and help to give potential buyers ideas about how they could decorate. Another benefit of neutral tones is that they are unlikely to "turn off" potential buyers, which is a bigger risk with bold colors like red, purple, or orange.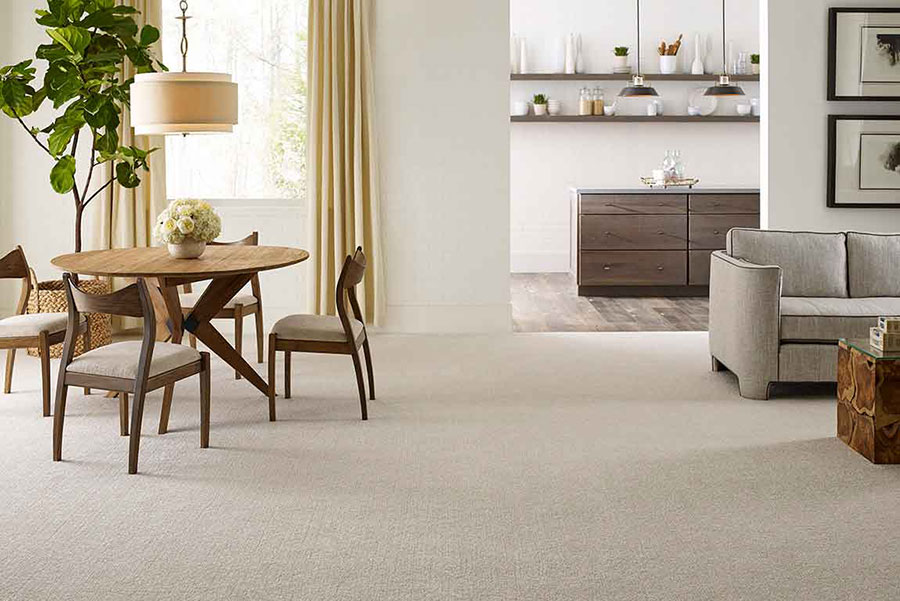 Focus on the Flooring
It's a major mistake to forget about flooring when staging and styling your home. After all, potential buyers know they can always repaint and redecorate, but they'll be much less willing to tear out and redo floors that are worn, rotten, scratched, or stained.
Quality, durable flooring is a critical part of your home's overall value. A home with clean, well-maintained flooring is more likely to sway buyers and get a higher price, especially with certain materials. For example, hardwood flooring tends to increase the sale value of just about any home, when varieties such as oak, cherry, or walnut are used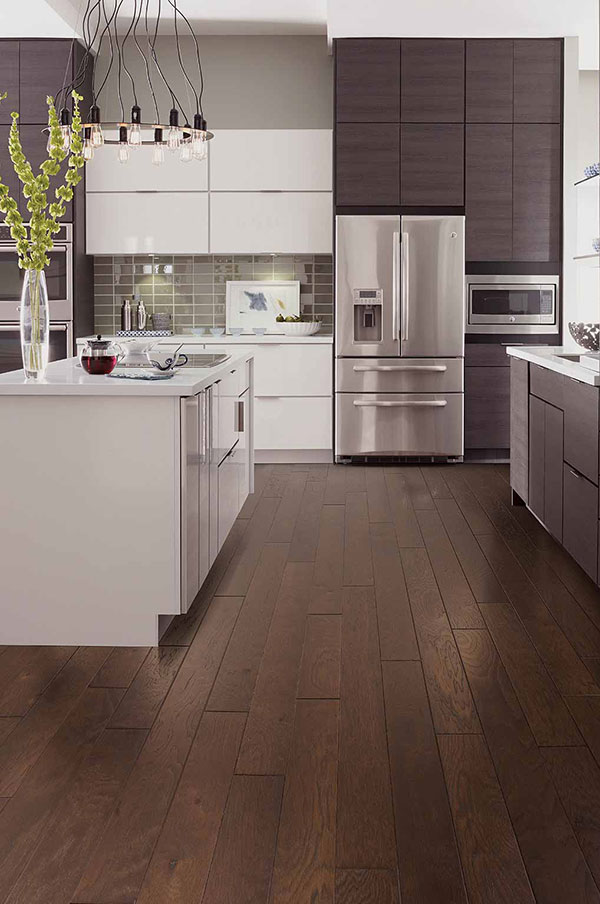 Show Off Closet & Storage Space
The beauty of storage space is that it appeals to every homebuyer, regardless of their age, family size, lifestyle, or interior design preferences. That means you should showcase the storage space in your home as much as possible, whether it's a walk-in closet, a breakfast nook, lofted beds, or a cozy alcove under the stairs. Strategically placed accents, like vases of fresh flowers, can help draw the eye to storage areas you want to highlight.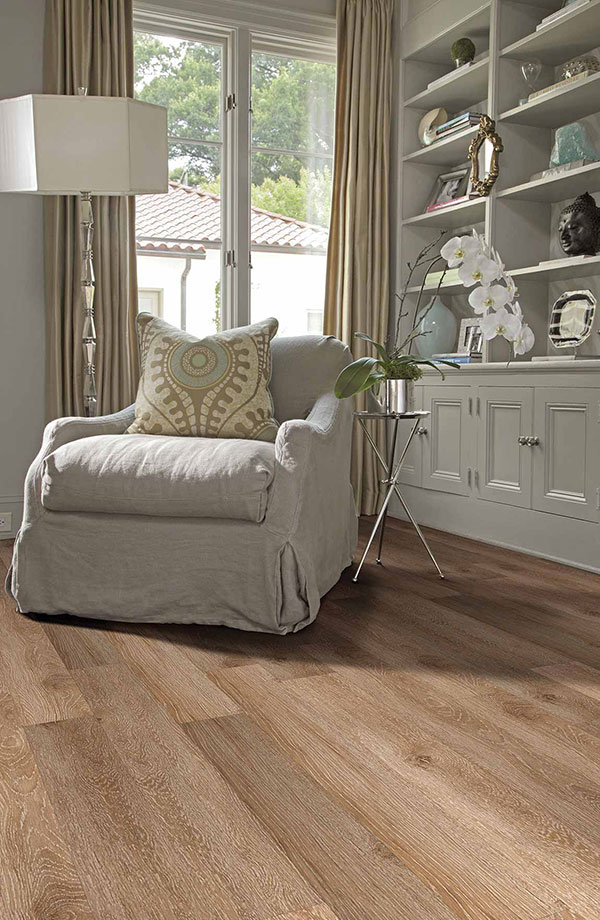 Choose Home Decor Strategically
Remember our advice about choosing colors with broad appeal? The same idea applies to your art and decor. It's a good idea to remove any objects that are too personal or that might distract buyers, focusing instead on generic decor like flowers, fruit bowls, books, and pillows. Your goal is to make the space feel like their home — not yours.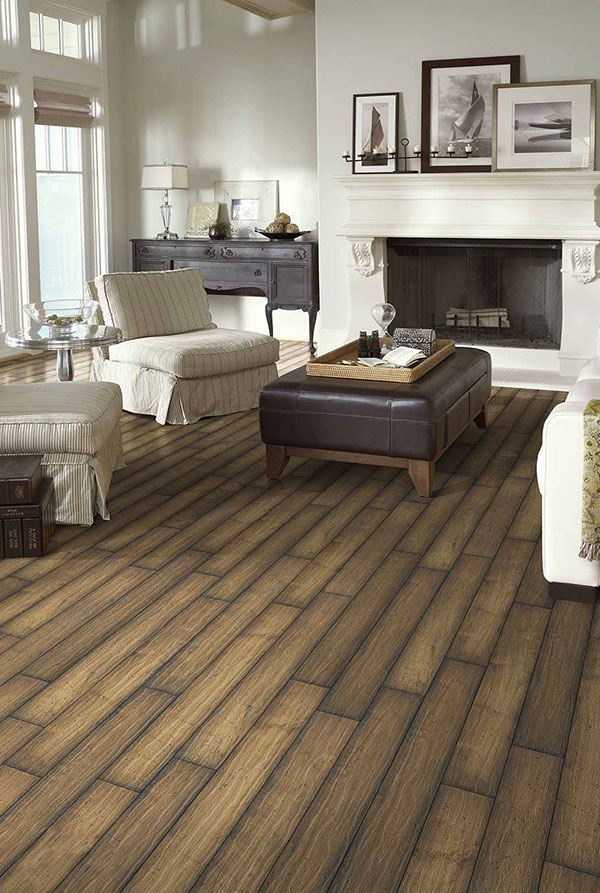 Need to Increase Your Home's Property Value? Flooring America Can Help
Need more ideas on how to stage a house to sell quickly? Check out the gorgeous visual examples on My Design Finder, which features thousands of images to inspire you. For even more ideas, read our tips on increasing the property value of your home.
Of course, the easiest way to get help improving your home is simply to call us and ask! Contact Flooring America online, or call today at (855) 808-9858.
Continue Reading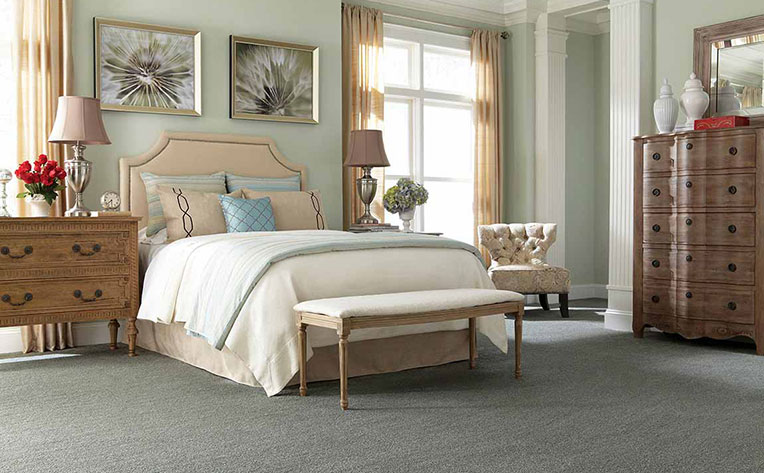 Aug 12, 2019
Many furniture stores offer the option to buy matching bedroom sets. For example, you might see a pair of matching nightstands that not only match each other but have been coordinated to go with the bed frame and dresser, as well. While these pre-made sets can be cute to look at and easy to shop for, they can also feel a little generic, which might be a turn-off for certain homeowners.
If you're looking for something that feels more eclectic or more personal, you're better off hand-selecting individual pieces of furniture. But how do you know what to choose? Read on to learn tips for how to mix and match furniture in any room of your house.
Mix Up Furniture Textures in the Room
Compared to elements like light and color, texture doesn't get enough credit for the role it plays in interior design. Put simply, "texture" refers to the way a surface looks or feels; for example, a rough, irregular popcorn ceiling versus a smooth tiled drop ceiling.
Anything from the furniture you use to the decorations you put up to the pillows on your bed or sofa can lend different textures to the room. Avoid matching textures completely, which can create a flat look, or matching none of them, which can look a little chaotic. Instead, try to strike a balance by featuring two or three different textures with a few objects that showcase each, such as plants, tapestries, or pieces of furniture.

Mix and Match Decor & Furniture Colors
Color coordination seems to overwhelm many homeowners. Fortunately, when you drill down to the basics, it's actually not too complicated.
Think of it as a formula or a recipe for any room of your home, whether it's the kitchen, the bedroom, or the bathroom, it's usually a safe bet to follow these steps:
Begin by choosing one neutral color (like taupe, grey, or beige).

Add two brighter base colors (like blue, green, or purple).

Layer on a handful of accent colors.
Since neutral colors are designed to pair with everything, the only colors you need to worry about coordinating are the brighter hues. For example, if your walls are pastel blue, consider decorations and furniture in hues like turquoise, navy, seafoam, or mint. Try to avoid bold combinations that will clash strongly, like red with green or purple with orange.

Coordinate Wood Flooring with Your Furniture
Customers often ask us how to match furniture to a wood floor. While there's no "right" answer, one thing we recommend avoiding is to match all of the wood in the room, which creates a one-dimensional, repetitive look.
A better approach is to choose two or three styles you enjoy and mix them throughout the space. For example, if you have dark floors with a prominent grain, try a light wooden chair with a softer, less intense pattern. Remember to mix textures, too, combining rustic, weathered looks with smooth, polished products.

Find the Perfect Floors to Match Your Furniture at Flooring America
Want to learn more about how to coordinate furniture in any room of your home? Check out My Design Finder, which shows you thousands of gorgeous design examples based on your unique style preferences. My Design Finder is fast, fun, and completely free to use, so get started getting inspired!
Whether you already know what you're looking for in a home makeover, or you need some style pointers, the design and flooring experts at Flooring America are here to work with you. We can help you choose from hardwood, carpet, tile, stone, luxury vinyl, and more, including stain-resistant and waterproof products. Contact us online to get started, or call today at (855) 808-9858 to learn what Flooring America can do for you.
Continue Reading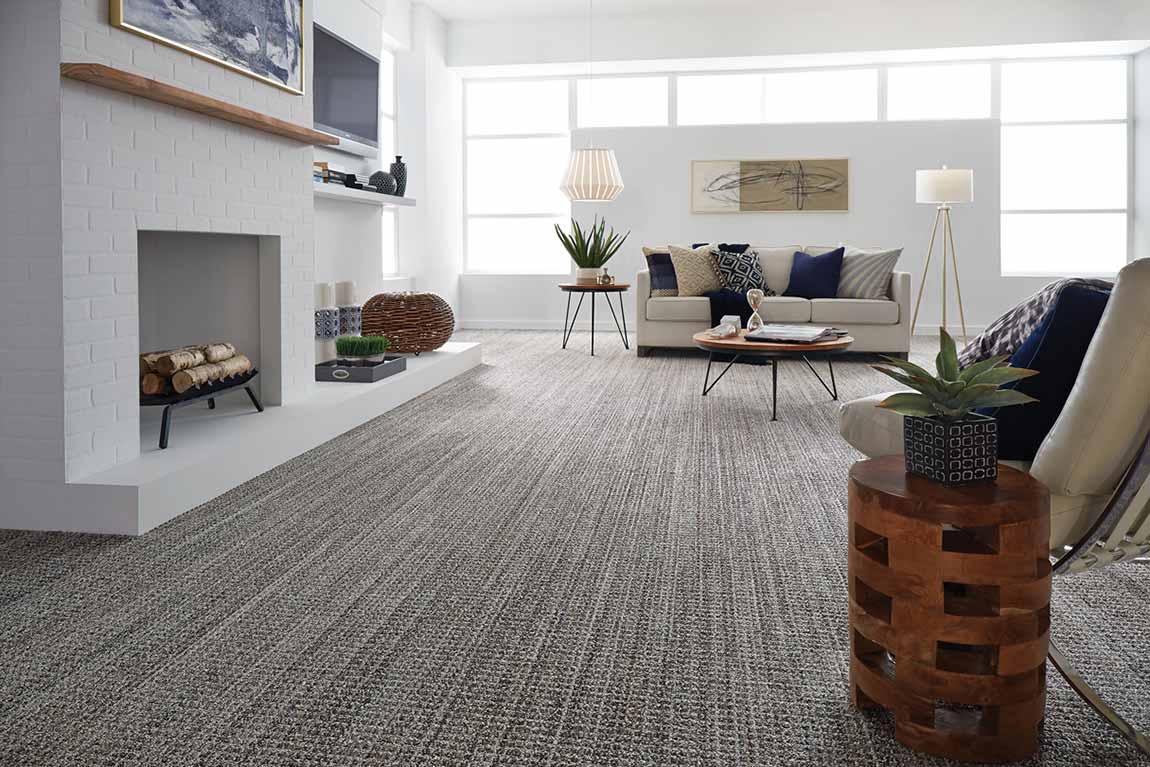 Aug 05, 2019
When we think about design elements, most of us tend to focus on factors like color, space, and lighting. But while these are all definitely key to consider, there's another, equally important style element that often goes overlooked: texture. If you're not utilizing textures, you're missing out on great opportunities to personalize and elevate the overall look and feel of your home. Fortunately, there's a simple fix: just add texture into your space! Of course, that's easier said than done if you're on a tight schedule or budget. To help you get started, here are five of our favorite tips on how to decorate with texture.
How to Add and Mix Textures in Your Home Decor
Choose Furniture Carefully
The fabric and upholstery used on furniture can inject a dose of texture into any room. The same is true for furniture made from wood or natural materials. For example, rattan or velvet brings the '70s to mind, creating a boho look, while something like polished wood or chrome evokes stylish mid-century modern penthouses.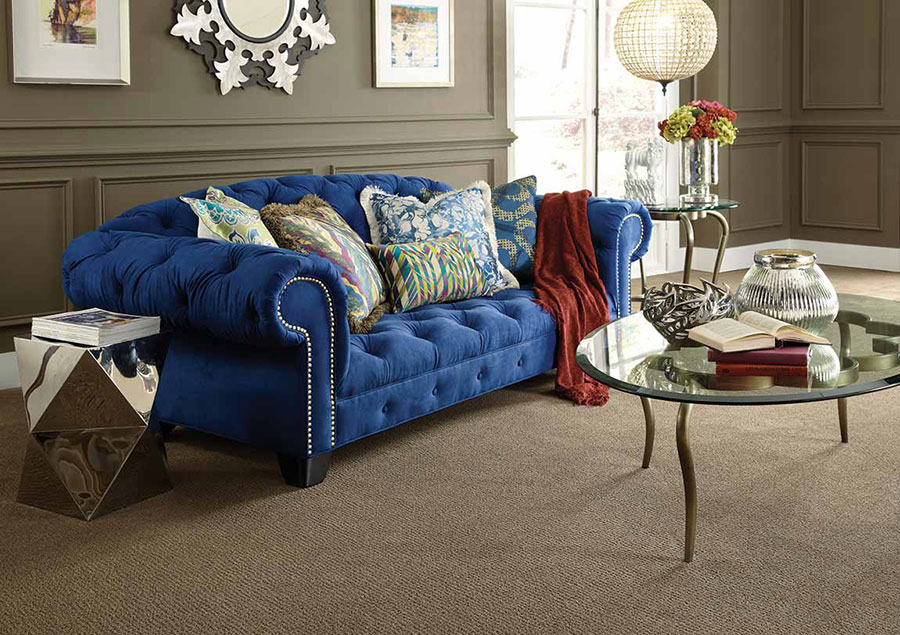 Use a Shag Carpet or Area Rug
Not only are shag carpets cozy and inviting, but they also have a choppy, funky texture that makes the whole room feel more dynamic.
Shag not really your thing? There are plenty of other options, too. Even if a rug is mostly flat and smooth to the touch, the fabric's patterns or colors can create the illusion of texture, which may be just as effective. With thousands of styles to choose from, we can help you find the perfect area rugs or wall-to-wall carpeting for any room in your home.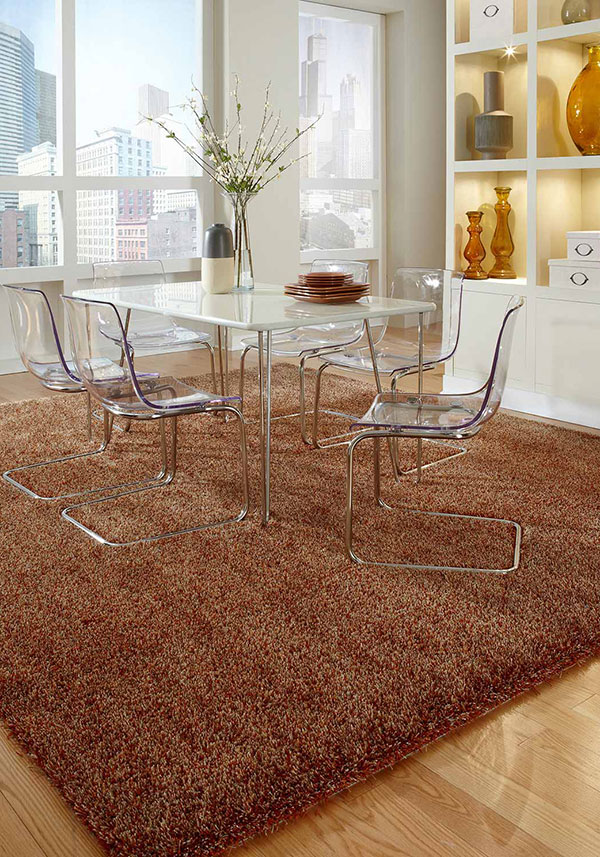 Try Adding Plants & Greenery to Your Space
Plants bring life into any space — literally. They also make a fantastic design tool for adding texture into a room. From the smooth, sleek leaves of an aloe plant, the natural, organic look of dried flowers, or the feminine, ruffled blooms of carnations, there's a plant for every personality. Just watch out for plants that could be harmful to pets or small children!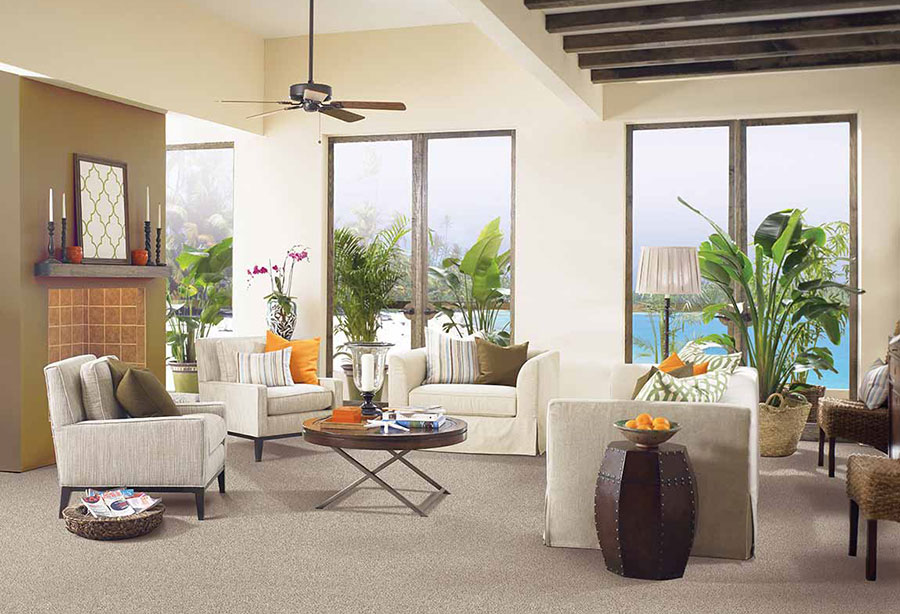 Incorporate Textiles into Your Room
A "textile" is simply any fabric made with synthetic (artificial) or natural materials. Examples of textiles include cotton, wool, silk, soft acrylics, and jute, which is similar to rope or burlap. You can feature a combination of different textiles in decor like tapestries, wall hangings, sheepskins, blankets, pillows, and area rugs.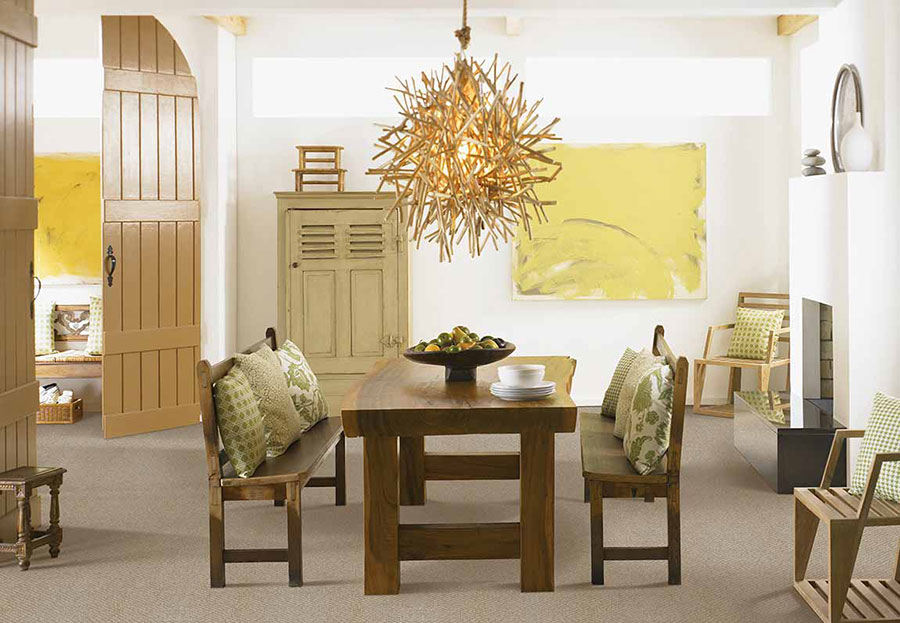 Look for Other Textured Decor to Add to your Home
When it comes to finding textured decor, the sky's the limit. There are countless types of decorative objects that can be heavily textured, whether they're fluffy, coarse, beaded, nubby, quilted, or otherwise. Examples might include objects like books, paintings, placemats, vases, sculptures, decorative bowls, plant potters, hand towels, and even coasters for drinking glasses.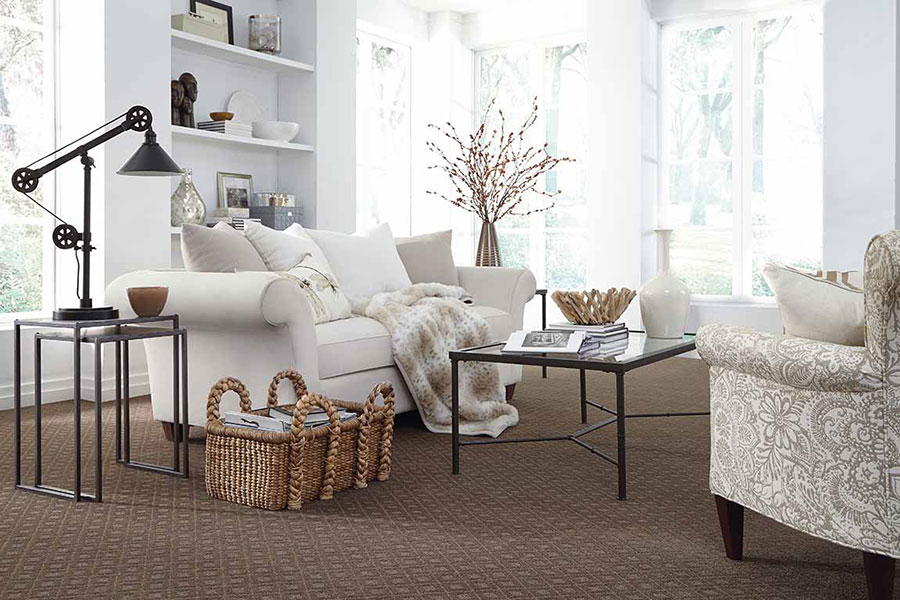 Get More Decor Texture Tips from Flooring America and My Design Finder
Need more ideas on how to add texture to a room? You're sure to find the inspiration you need on My Design Finder. Just answer a few questions about your design tastes to view thousands of stunning bedrooms, bathrooms, kitchens and more — all personalized to meet your criteria. Whether you're looking for shag carpet, hardwood floors, or something exotic like stone or bamboo, we can help you add more texture to any room in your home. Contact us online to get started, or call Flooring America today at (855) 808-9858.
Continue Reading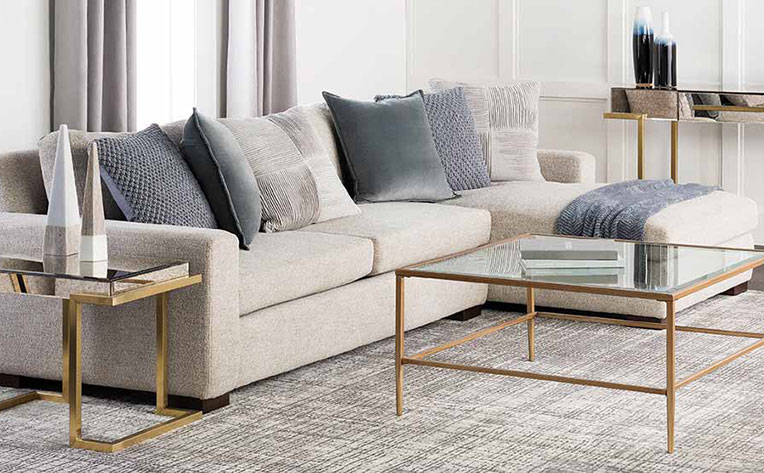 Jul 29, 2019
Furniture and decorations are only a part of interior design. Before you start assembling tables or hanging up wall art, there's another, even more fundamental style element to think about: color. Whether you're making over the ­­­family vacation home, or just trying to make your apartment feel a little more beachy, coastal color schemes can go a long way toward bringing your design dreams to life.
Keep reading to learn everything you need to know about seaside color palette, and ways to incorporate them into your home. With these five beach house style tips, it's a breeze to bring these coastal colors into your space successfully. The home flooring experts at Flooring America are here to help you make it happen.
Incorporating a Beach Color Palette into Interior Decor
Find or Create a Coastal Color Palette You Love
The first step to designing the right color scheme for your home is to decide what sort of colors you absolutely love — and which ones you can live without. Of course, there's more than one beach house color palette to choose from.
The classic combination consists of a white shade (like ivory or eggshell), a neutral tone (such as grey or khaki), and a bright accent color (such as yellow), to be used more sparingly. Then, choose a core or theme color to act as the backbone and tie everything together. For decorating in a coastal style, design experts often recommend shades of blue (such as navy and robin's egg). Pastels are also popular suggestions for decorating a coastal style house, like soft yellows, pinks, and purples.

Choose the Right Shade of White for your Coastal Color Scheme
Choosing a hue of white might sound a little bit silly or excessive; but believe it or not, subtle variations in white tones can greatly affect the feeling of a room. White shades range from "cool" (more blue or grey) to "warm" (more orange or yellow), so take the time to compare swatches and see how they impact your mood in the space.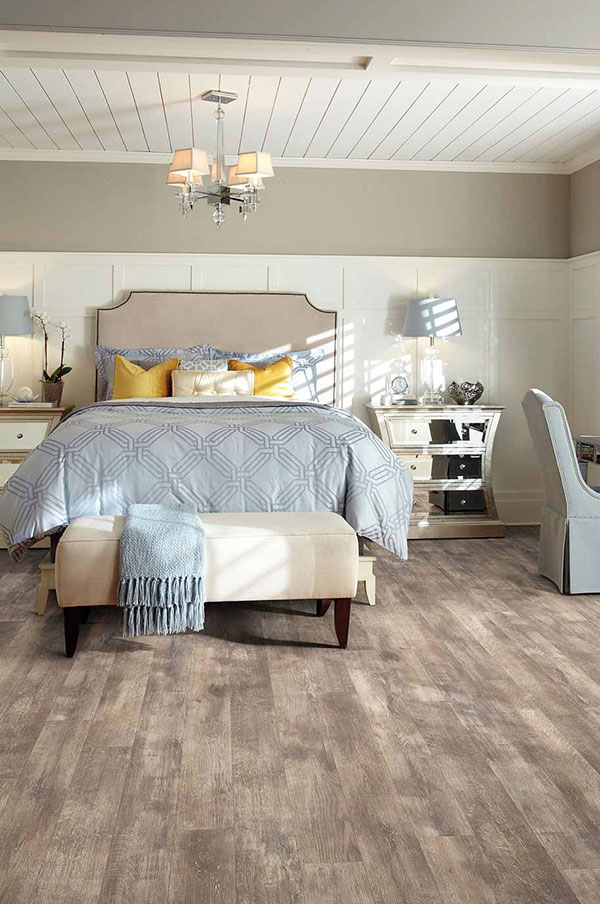 Incorporate Neutral Colors into Your Color Scheme
Once you've settled on the right shade of white for your beach theme color palette, you need a few reliable neutrals. Neutrals might not seem exciting at first, but they're actually a designer's best friend. Thanks to their versatility, neutrals are almost always compatible with other style elements. Mix, match, or do a little bit of both — neutrals make it easy.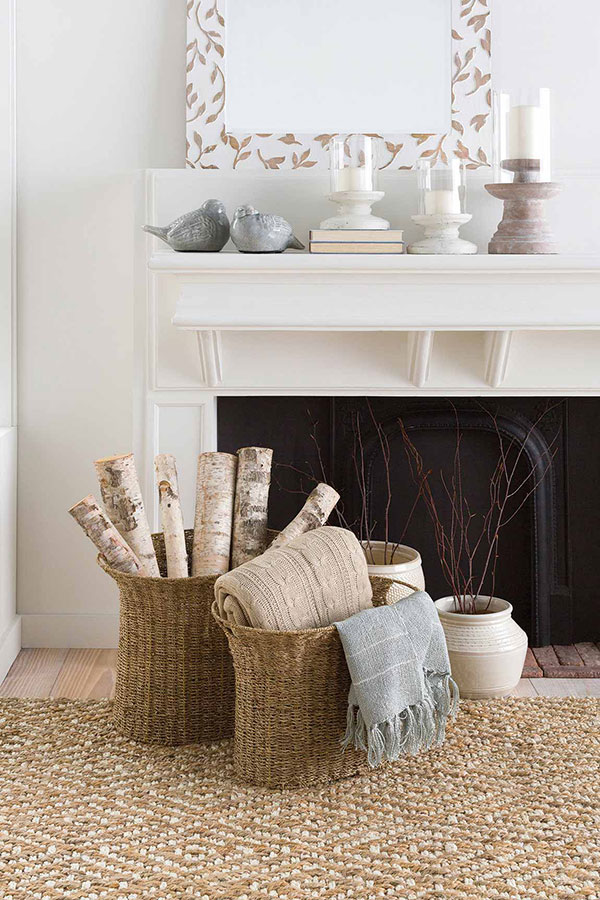 Decide on a Nautical Accent Color
On top of your "main" or "base" colors (like blue or your favorite pastel), you're going to need an extra dash of color to liven the space and make standout items "pop." When used sparingly, accent colors add a sense of depth and dynamism to each room. Try using a sea foam green or incorporating a bold coral into your color scheme to create a beachy vibe.

Design Tip #5: Tie Your Palette in with Beachy Decor
Once you've chosen your ideal beach paint color palette, there are countless ways to work it into your space: through flooring, decor, wall art, upholstery, blankets, pillows, or even display items, like art made from coral or driftwood. Items you already have in your home, such as books, candles, hand-towels, or vases, can be arranged to bring out color themes in the space.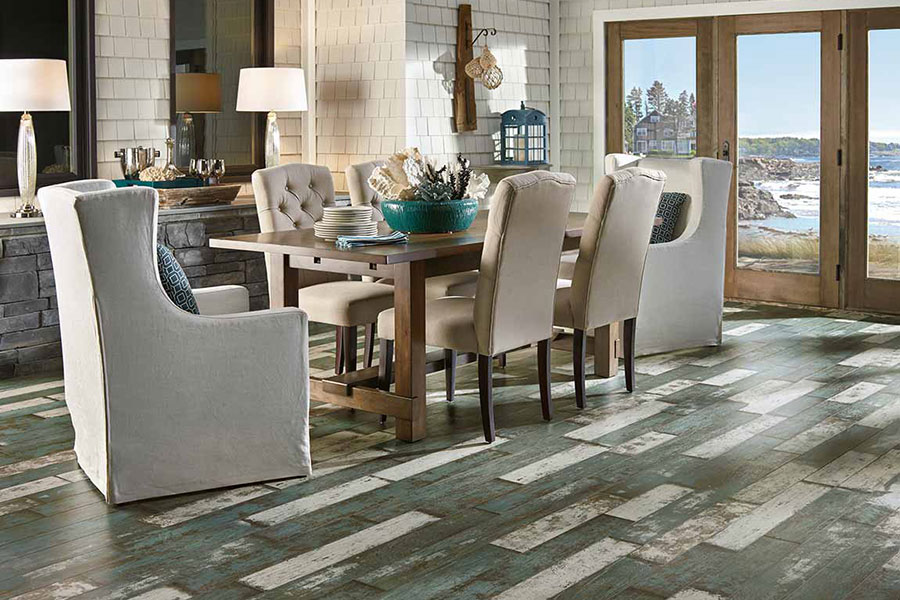 Flooring America Can Help You Design Your Dream Beach Vacation Home
At Flooring America, we take pride in the products we carry and install. We're here to help you choose flooring materials that will look stunning, withstand the weather, and fit your budget, delivering the quality you want with the features you need — including professional installation. Not quite sure what you're looking for? Just ask our friendly experts, or check out the "Coastal Beach House" examples on My Design Finder.
We offer all types of flooring options ideal for beach homes and high-moisture areas, including waterproof flooring, eco-friendly flooring, luxury flooring, and budget flooring. Products available include hardwood, tile, stone, laminate, luxury vinyl, carpet, and more. Contact us online today to begin your beach home transformation, or call Flooring America at (866) 563-5798.
Continue Reading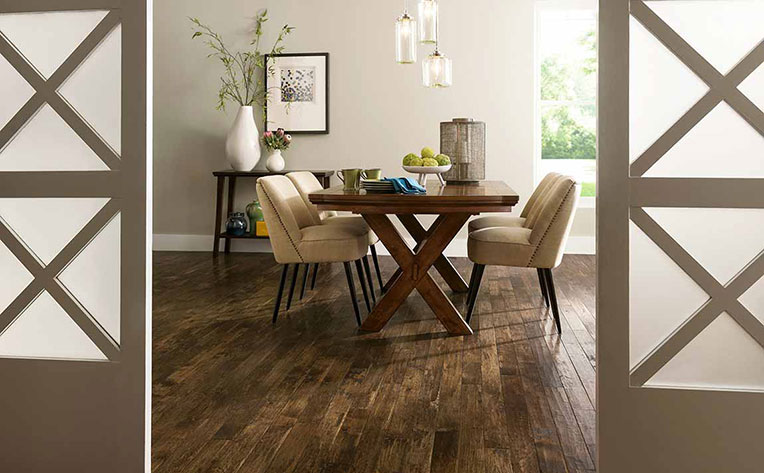 Jul 22, 2019
Choosing the right colors for one room can be daunting enough. Expand that mission to the whole house or apartment, and the task gets even more complicated. But don't worry, Flooring America is here to help make sense of it all with some modern house color scheme ideas. Read more to learn about choosing colors for the inside of your house, including those colors throughout the space, and ways to get even more inspiration for your next home makeover project.
How to Choose & Include a Color Scheme for Your Home
Choosing a Color Scheme for Your Home
Choosing a color scheme for your house doesn't have to be overly complicated, as long as you know where to begin. Start with objects that already inspire you and take color cues from there. Creating an online (or real-life) inspiration board can help you keep track of styles to try out. Instagram and Pinterest are great places to look, along with My Design Finder.
Including a Color Scheme Throughout Your Home
It's easy to incorporate a color scheme throughout your house as long as you don't get stuck in a creative rut. Instead of repeating the same arrangement in every room, mix up the ways you use color.
For example, if flowers and artwork form the accents in one room, use blankets and pillows to create them in another. If you used a neutral carpet in one room, try neutral furniture in the next. And remember, everyday objects like books, blankets, or even pairs of shoes can all be used to show color and express your personality.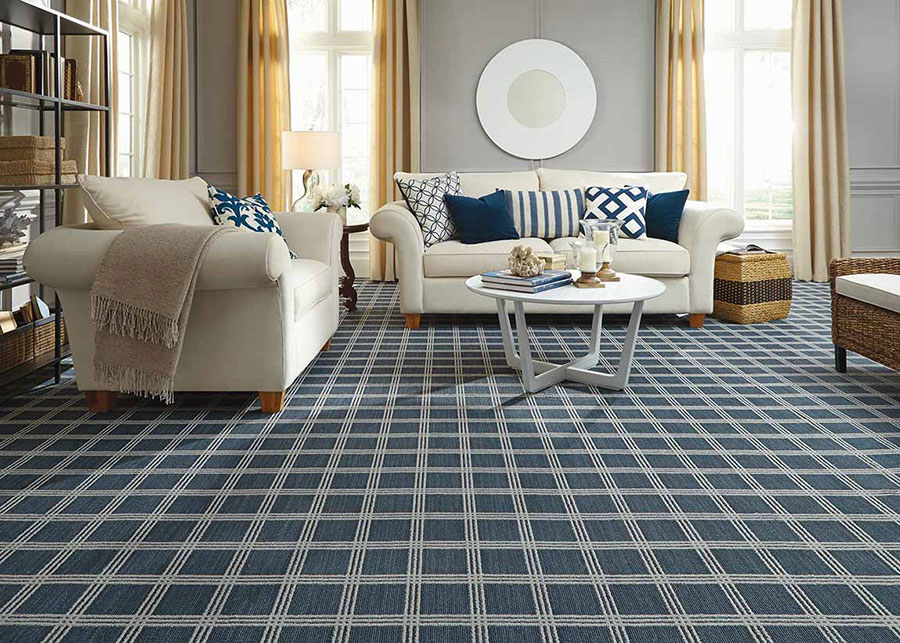 House Color Scheme Ideas
There are three steps to finding great colors for your home: choosing the right paint undertones, learning to balance bright colors with neutrals, and getting the lighting perfect.
How to Choose the Perfect Undertones for Your Color Scheme
"Undertones" might sound fancy, but the idea is simple. All paint colors have subtle, underlying tones like cool or warm, pink or blue, and so on. These undertones give them a slightly different "look" on your wall than they have on the label or can.
Undertones are faint and can be hard to perceive until you choose the wrong one. Before you commit to repainting a room, test a few swatches of paint in a discreet area to see what sorts of undertones come out most prominently. If you aren't happy with the finished look, you'll know you need a slightly different shade.
Balance Your Colors by Choosing 2 Colors with 1 Neutral Shade
Neutral shades include grey, beige, olive, khaki, peach, and taupe. Choose one of these laid-back colors to offset and pair with a brighter partner, like blue, purple, green, or yellow.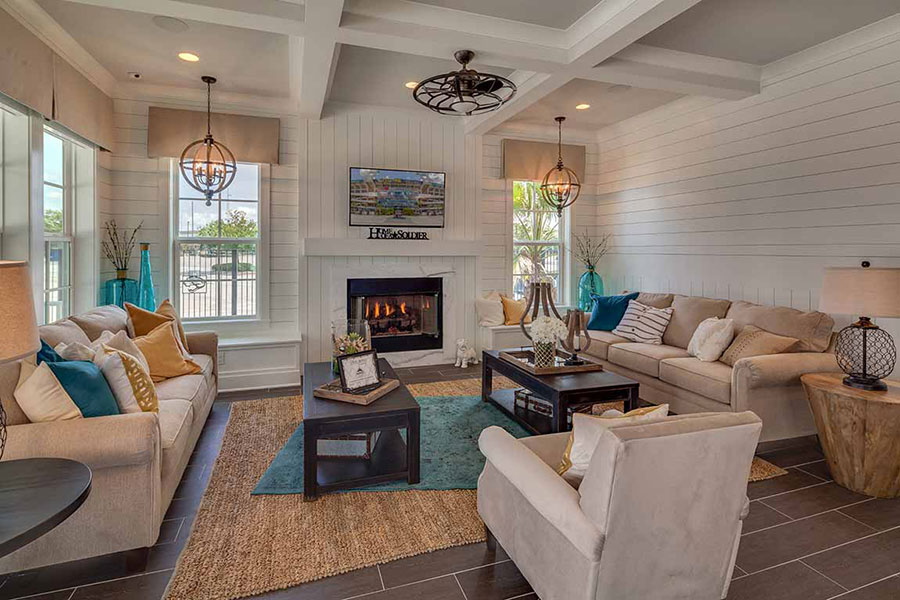 Experiment with Different Lighting
Even the most beautiful colors can look a little bit drained or drab under the wrong lighting. The good news is, "quality" doesn't have to mean "expensive." Simply changing the color or thickness of your drapes might be enough to radically alter the way the whole room feels.
In general, try to avoid fluorescent lighting. Modern LEDs are energy-efficient and, thanks to improvements in technology, are now better than ever at mimicking the warm glow of incandescent bulbs.

Compare House Color Schemes Using My Design Finder
Sometimes, you don't know what you want until you see it. That's why we created My Design Finder, a free, easy-to-use tool that generates personalized design suggestions based on your feedback about your style preferences. Compare thousands of bedrooms, bathrooms, kitchens, living rooms, dining rooms, and more, sorting by room type, floor type, and other settings. With just a few clicks, you can view countless examples of design ideas just for you. For even more ideas, check out our My Floor Style page, or browse our interior design blog.
Still not sure where to start choosing a color palette? Don't worry. The experts at Flooring America are here to help you tie everything together. With flooring options available in hardwood, laminate, tile, and luxury vinyl — including eco-friendly and waterproof products — there's something for every homeowner to love. To learn more, contact us online, or call (866) 563-5798 today.
Continue Reading